Gorkha, NEPAL
---
Parecendo pressentir o destino, o pequeno animal trepou contrafeito a longa caminhada de degraus, lutando contra o puxar da corda ao pescoço. No topo, os picos afiados dos Himalaias dilaceravam os céus, numa imposição majestosa, o cenário pertencendo-lhes.
Já no templo, deu entrada no átrio sagrado o desgraçado homem, a quem os deuses apenas tinham concedido duas fêmeas como filhas. Vinha ofertar uma cabra, comprada a custo com poupanças, na esperança de melhor sorte. Cânticos, preces, comidas, o colorido das vestes e das flores, nas pedras o sangue vermelho do anterior sacrifício. O som áspero dos sinos e das correntes, o arrastar incomodado dos pés e ao mesmo tempo um silêncio de alma e medo. Expectativa suspensa no ar. Benze-se o animal, enfeitado de pétalas, encomendam-se os desejos às divindades, escondem o rosto alguns dos presentes enquanto a lâmina rasga pele e carne, sujando de sangue mãos e faca, pêlo e corda, escorrendo do pescoço para o chão um vermelho escarlate. Tombam-se as pernas do bicho, algo não tem sentido, desfaz-se a magia da vida em movimento trôpego e disforme. Numa violência quase pacífica, esmorece um estremecer chicoteado no corpo, chega a calma, pousa-se o animal, na face do monge amainam as feições encarnadas do esforço, vem um embrulho plástico, esvazia-se respeitosamente o lugar.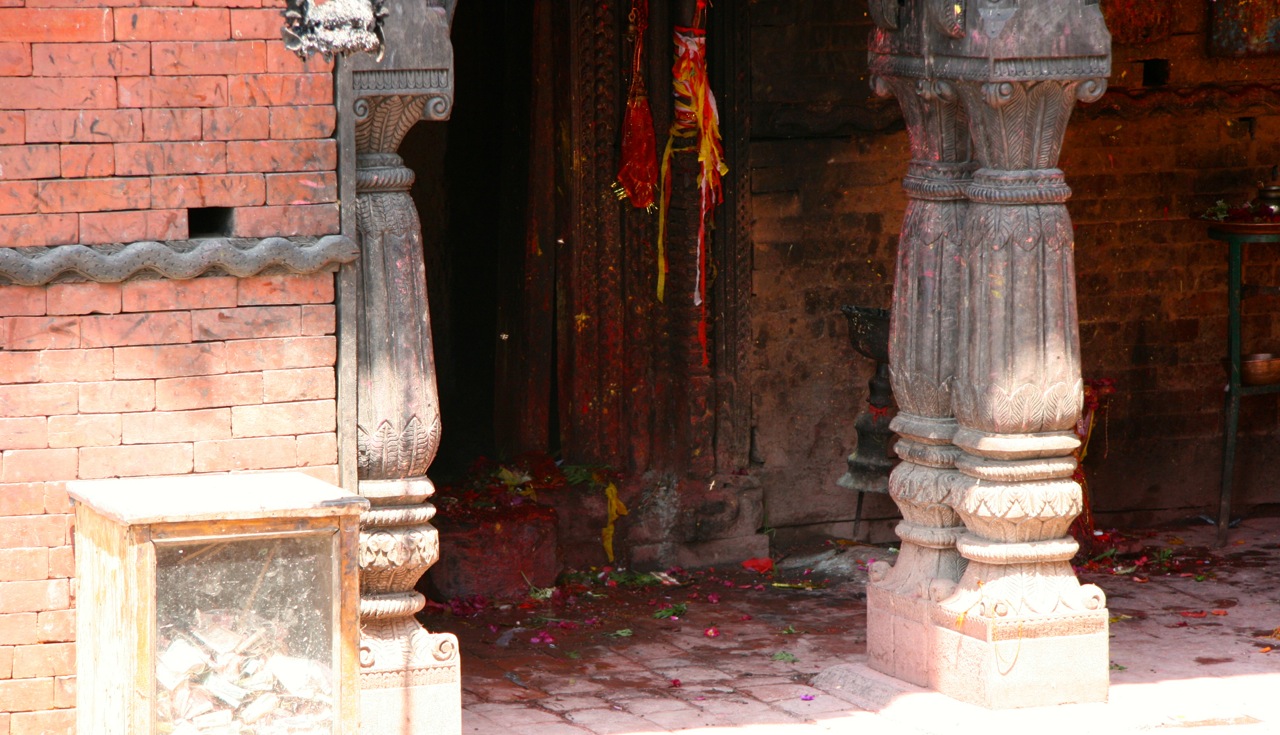 Em breve o silêncio volta às paredes do altar, testemunhas diárias destes rituais. Do episódio surreal, resta apenas um fio de sangue, vermelho intenso e brilhante, dir-se-ia vivo, mas já não o sendo, escorrido de um pesado saco que já segue às costas colina abaixo. Está feito. Está um filho homem encomendado aos deuses...
Viajar dá-nos este privilégio: aceder a ritos que de tão diferentes nos chocam - porque a nossa lógica é apenas uma de muitas. E compreendemos que o peixe não inventou a água, que nem sabe o que é essa coisa. É libertador reconhecer que estamos apenas a viver num padrão mental inventado, construído, embora habitual, e que é um de muitos possíveis. Limitado pelas nossas próprias crenças do que é certo ou errado, convencidos de uma inabalável racionalidade, regras que não são mais do que um pensamento, uma heurística, uma necessidade de criar pontos de controlo perante tamanha incerteza. Vivemos num castelo de lego...
As if its destiny was foretold, the small
animal unwillingly stumbled the long walk of stairs, struggling against the pulling rope on its neck. At the top, the sharp Himalayan peaks ripping the skies apart, majestically, owning the entire set.
In the temple, the wretched men entered the holy atrium, to whom the gods had only granted to females for daughters. He came to offer a goat, bought with much of his saved money, hoping for better luck. Chants, prayers, food, the colorful clothes and flowers, on the rocks still the red blood from the previous sacrifice. The harsh sound of the bells and chains, the bothered feet dragging and at the same time a silence of soul and fear. Expectations suspended in the air. The animal is blessed, adorned with petals, wishes are commissioned to the deities, some of the presents hide their faces while the blade cuts off skin and flesh, smearing blood on hands and knife, fur and rope, running down the neck to the scarlet red floor. The legs of the animal tumble up, something does not make sense, the magic of life dissolves in a shaky, shapeless movement. In an almost peaceful violence, weakens a body whipped tremble, the calm arrives, the animal is laid down, the monks effort red face features settle down, a plastic raping comes in, and the place is respectfully emptied.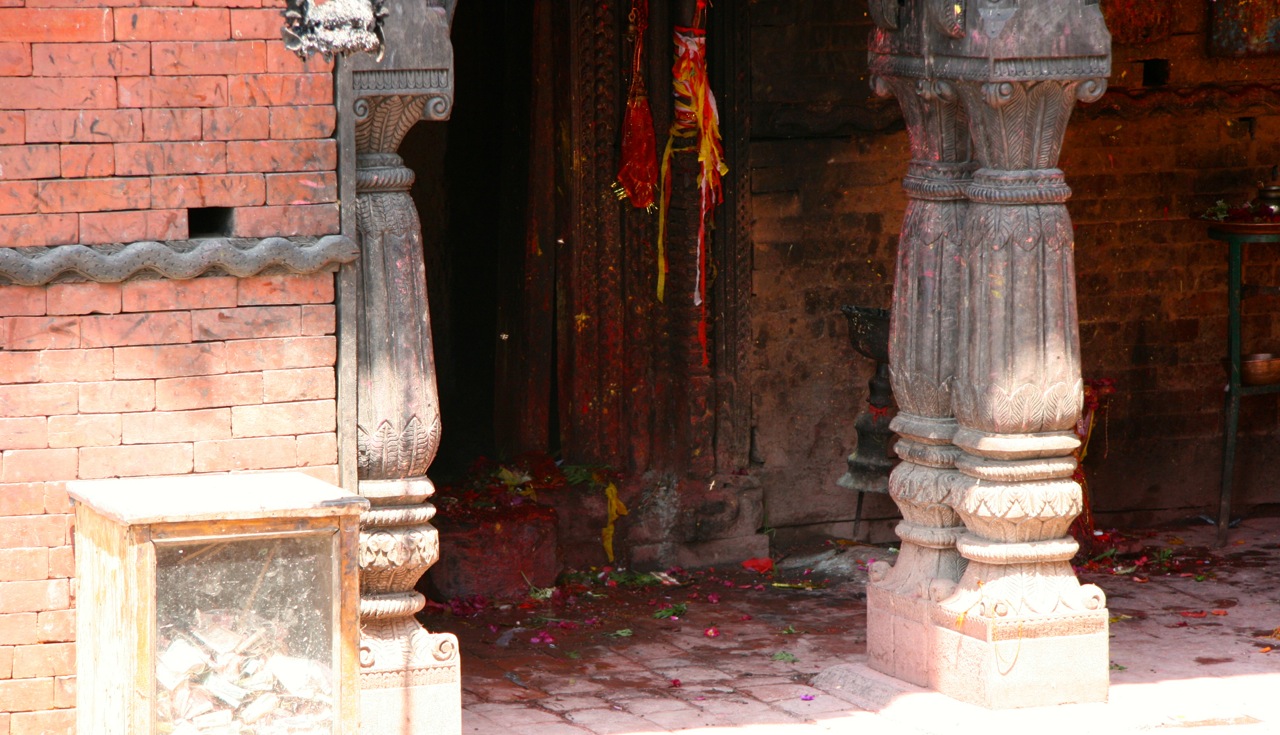 Soon the silence regains its place within the altar walls, daily witnesses of this rituals. From this unreal episode, just a smear of blood remains, intense bright red, almost alive, yet no just so, drained from a heavy bag that already goes down the hill on somebody's back. It is done. A man's son is ordered to the gods...
Travelling gives us this privilege: to access rituals that from being so different shock us - because our logic is only one of many. And we understand that the fish did not invent the water, that it doesn't even know what water is. Its is liberating to acknowledge that we are living in a made up mental pattern, built up, though regular and usual, it is only one of many possible. Limited by our own beliefs of what's right or wrong, convinced of an unshakable rationality, rules that are no more than a thought, an heuristic, a need to create a control point when faced with uncertainty. We live in a Lego castle....