Nebraska, USA
---
Alguns ainda estarão para ir de férias, é certo, mas a maioria está de regresso ao trabalho. Mais uma vez, foi rápido e já passou…
Do ponto de vista de organização pessoal, as férias apresentam fases interessantes. Primeiro, antes de irmos, é normal um pico de produtividade para deixarmos tudo "em ordem". De facto, o efeito de uma parede inamovível, a delimitar o "antes de ir" e o "quando voltar", tende a imprimir um ritmo alucinante aos últimos dias, aniquilando a eito, sem piedade ou hesitação, assuntos e detalhes que se arrastam há tempos infindos.
Depois, férias: marinamos na consequente semi-ausência de compromissos. Mesmo se mantemos um olho no e-mail, as expectativas sobre a nossa intervenção são muito menos exigentes. Temos ainda a oportunidade para uma constatação produtiva: não estarmos lá, no trabalho, a fazer de super-homem, não é a catástrofe que imaginamos - o planeta continua a girar sem nós. Finalmente, a novidade do contexto "férias", misturada com um estado mental mais sereno, permite-nos espaço para automaticamente perspetivar e ter ideias criativas, mesmo sem pensar nisso. É produtivo.
De regresso, custa acordar outra vez a horas, mas também há algo de agradável e seguro na rotina de sempre. E se correram bem as férias, os pormenores chatos parecem chatear menos. Há mais paciência. Há até mais vontade para fazer diferente, para introduzir novos hábitos, alterar o método das reuniões, do reporting, aplicar os ensinamentos do livro de liderança, fazer uma lista de tarefas diária, portarmo-nos bem, como se um novo período de vida se fosse iniciar… (e vai!)
Em particular, parece-me este curto momento de regresso ao trabalho um ponto crucial e estratégico em termos de Direção. É que um armário novo, enorme de espaço, arruma-se com menos cuidado. Pode acontecer vermos uma caixa de email a abarrotar, e começarmos a dizer que sim a mais do que devíamos, quase sem saber para onde queremos ir, e de tudo tão direitinho em poucas semanas saltamos para o caos instalado.
Começar bem é clarificar missão e definir foco. É destinar cada prateleira. É resistir à tentação de dispersar ou desperdiçar. Para onde quer ir? O que seria correr bem até ao fim do ano? Se pensar, o seu tempo é tão limitado hoje como era no dia antes de partir. Clarifique direção-macro antes de mergulhar nos detalhes e pequenas decisões. Faça agora, que é a melhor altura, um esquema geral da sua função, e escolha 2(!) prioridades estratégicas. Duas é muito pouco, eu sei, é mesmo essa a ideia. Depois, pendure um post-it no monitor, bem à frente do nariz, a dizer: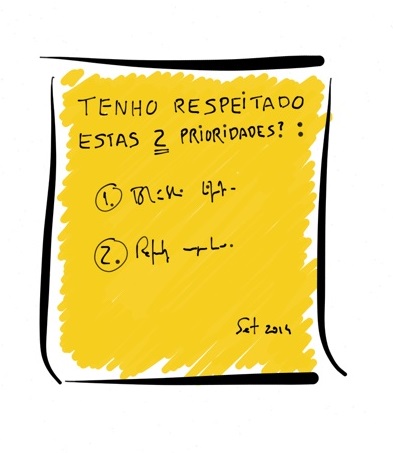 ...e bom regresso!
BACK TO WORK
Some people are yet to go on vacation, it's true, but most people are back to work. Once again, it was quick and is now over.
From the point of view of personal organization,vacation present interesting phases. First of all, before we go on vacation, a peak of productivity to leave everything "in order" is more than normal. In fact, the effect of an immovable wall, to limit the "before I go" and "when I get back," tends to print an hallucinating pace to the last days of work, erasing blindly, without pity or hesitation, topics and details that creep for endless ages.
After that, vacation: we benefit from the comfort of the semi-absence of commitments. Even if we keep an eye on the e-mail, expectations about our intervention are much less demanding.
We still have the opportunity for a productive conclusion: we're not there, at work, playing Superman, and it's not the catastrophe that we have imagined - the planet keeps turning without us. Finally, the novelty of the vacation context, mixed with a more quiet state of mind, gives us space to automatically get perspective and have creative ideas, even without thinking about it. It's productive.
Returning to work, it's hard to wake up again on time, but there's also something nice and safe in the usual routine. And if vacation went well, the boring details seem to upset us less. We are more patient. There's even more willingness to do differently, to introduce new habits, change the method of reporting, meetings, apply the teachings of that leadership book, make a list of daily tasks, play-along, as if a new phase of life was about to start.. (and it is!).
In particular, it seems to me this short "back to work" moment is a crucial and strategic point in terms of Direction. In fact, a new closet, with lots of space, get's organized with less care. It's possible that we see an overflowing e-mail box, and start saying yes to more than we should ,almost without knowing where we want to go and from "everything's neat and tidy" in a few weeks we jump into installed chaos.
A good start is to clarify mission and define focus. It's to allocate each shelf. It's resisting the temptation to disperse or waste. Where do you want to go? What does it mean to turning everything out just fine till the end of the year? If you think about it, your time is so limited today as it was in the day before leaving. Clarify macro-direction before diving into the details and small decisions. Right now, because it's the best time, make a general scheme of your function, and choose 2 (!) strategic priorities. Two is quite a few, I know, that is exactly the point. Then hang a post-it on your monitor, right in front of your nose, saying: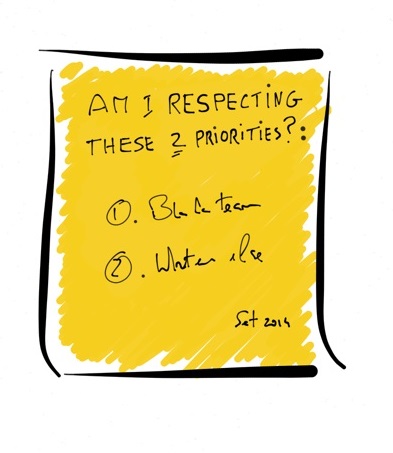 ... and welcome back!