Se ainda não leu, ainda vai muito a tempo! O recém chegado às prateleiras Ainda Não Tive Tempo, de autoria de Gonçalo Gil Mata promete 7 passos para ser mais produtivo com menos disciplina. Promete e cumpre! Percorrendo algumas das principais dores dos profissionais dos nossos dias, aponta com uma simplicidade revigorante truques e dicas práticas e de fácil implementação que podem levar a alterações significativas da nossa forma de trabalhar e gerir a nossa atividade diária.
Em modo resolução de ano novo, se lhe parecer boa ideia aproveitar este novo começo para experimentar fazer algo de diferente, sugeriria começar com estes 3 truques que selecionei e compilei neste Top 3.
N.º 1 – "Crie um modo túnel"
Da minha experiência enquanto coach e formadora em Produtividade Pessoal este truque mostra-se bastante útil, às vezes até revolucionário, principalmente para gestores de equipa, diretores e administradores, que têm elevado nível de solicitações ao longo do dia e que habitualmente referem que são mais produtivos logo pela manhã, antes de toda a gente chegar ao escritório ou ao fim do dia, quando já todos foram embora. Ajuste à sua realidade e experimente!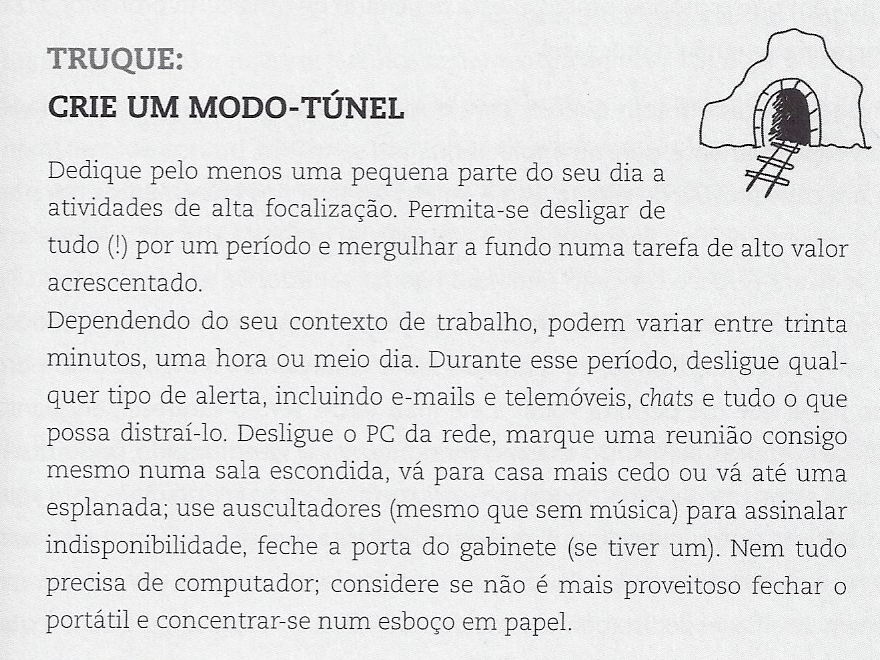 N.º 2 – "Engane-se com uma microação"
Há tarefas que parecem emperradas... por alguma razão que parece meia misteriosa são adiadas e moem, moem, moem... Até que, por ter mesmo de ser, à última da hora lá vai um esforço extra e a coisa dá-se. Para muitas pessoas (que eu conheço algumas!) este é o caso paradigmático das prendas de natal.
Sem entrar em muito detalhe sobre estes chamados bloqueios, que pode sempre ir pesquisar no livro, deixo um truque dos mais simples e eficazes que conheço e que tem sempre um feedback muito bom. Às vezes a melhor forma é mesmo enganarmo-nos, só um bocadinho!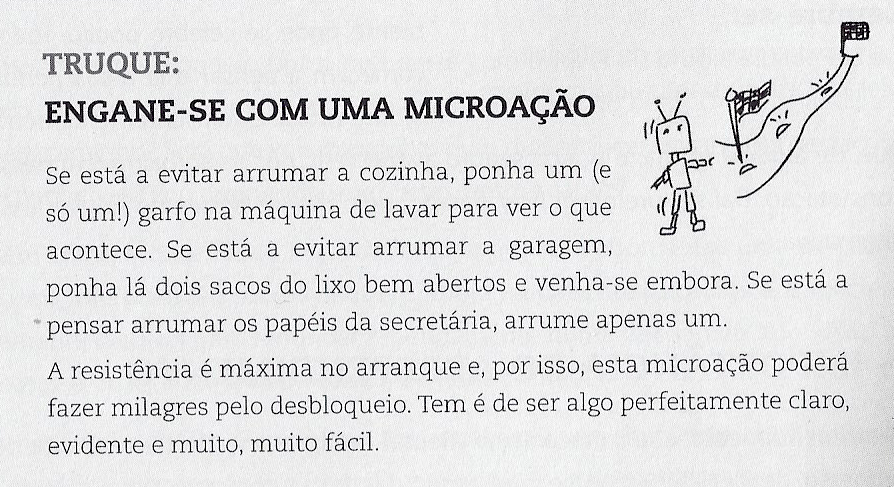 N.º 3 – "Escreva a missão da sua função"
Para muitos de nós e para a maioria das empresas esta é uma época de fazer contas, ajustar desvios, medir resultados, enfim... avaliar se o caminho que há um ano atrás se definiu foi o percorrido, se andou lá perto, ou se nem sequer se aproximou.
O alinhamento é talvez dos pontos mais alavancadores e que mais vejo negligenciado, quer a nível individual, quer a nível de equipa ou organizacional.
Definir a missão permite-nos um exercício de reflexão não muito comum e por isso também extremamente rico e alinhador. Se me permite a sugestão e claro, se achar minimamente divertido, use este truque para as suas diferentes funções: a do trabalho, a lá de casa como membro do casal, como pai/mãe, como filho/a, amigo/a...
E divirta-se com a magia que acontece quando dá espaço à sua mente para refletir.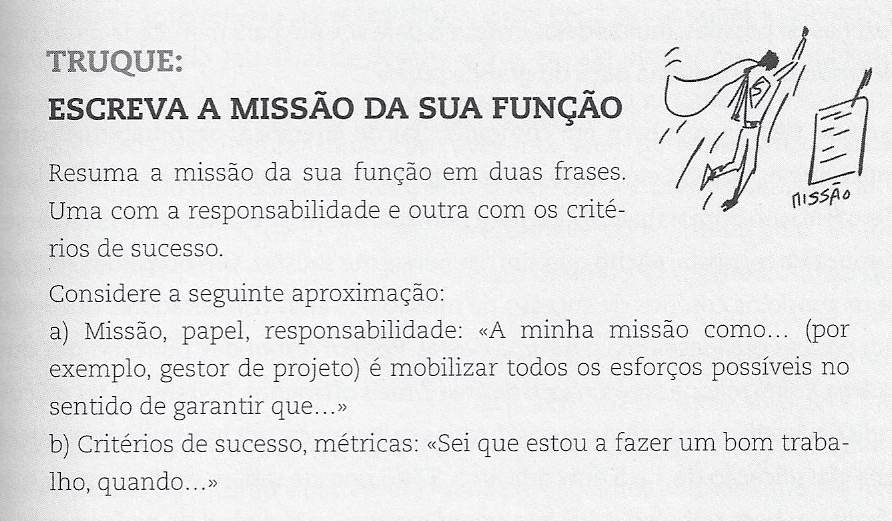 Confesso que a escolha não foi fácil. Muitos outros truques ficam à espera, à espreita, truques que ajudam a implementar alterações em áreas como o Sistema e a Performance de Excelência, todos igualmente cheios de potencial para mudar a sua vida, se estiver na disposição de os experimentar. E se porventura lhe ocorrer que "Ainda Não Tive Tempo", aqui tem uma excelente oportunidade de perceber onde e como o pode encontrar. Pelo menos, já sabe por onde pode começar! Bom Natal e Bom Ano!
Liliana Sanches
---
3 PERSONAL PRODUCTIVITY TRICKS FOR THE UPCOMING NEW YEAR
The Top 3 tricks from the "Ainda Não Tive Tempo" book
If you haven't read it yeat, your still on time! The newly arrived book "Ainda Não Tive Tempo", from the author Gonçalo Gil Mata, promises 7 steps to be more productive wiht less discipline. And the promise is kept! Throughout some of the main pains of nowadays workers, he points out some practical and easy to set up tips and tricks, with a envigorating simplicity, that can lead to significant changes on our way of work and managing our daily activities.
In a New Year's resolutions mode, if it seems like a good idea to take advantage of this new beggining to try and do something different, I suggest you go ahead and start with these 3 tricks I compiled and selected in this Top 3.
N.º 1 – "Create a tunnel mode"
From my experience as a coach and trainer in Personal Productivity this trick is quite helpful, sometimes even revolutionary, mostly to team managers, director and CEOs with a high level of demands throughout the day and that usually claim they're more productive very early in the morning, before everyone gets to teh office or quite late in the evening, when everyone has already left. Adjust it to your reality and give it a try!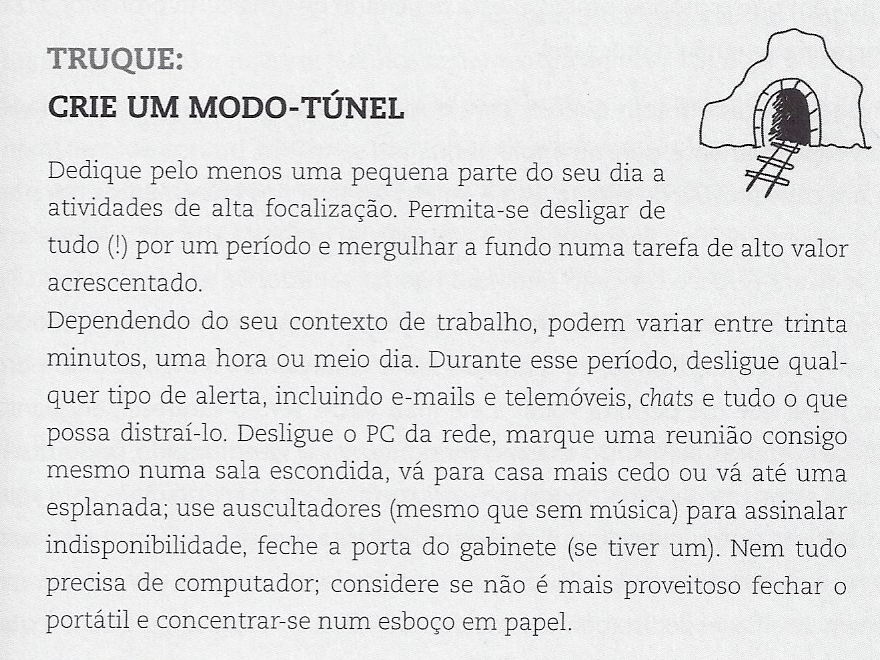 Legend: Create a tunnel mode.
Dedicate at least a small part of your day to high focus activities. Allow yourself to turn off from everything (!) during a period of time and dive in deep in high value tasks. Depending on your work context, it could be between thirty minutes, one hour or half a day. During this period, turn off any kind of alert, includin emails and cell phones, chats and everythign else that may distract you. Turn the internet off on your computer, schedule a meeting with yourself in a hidden room, go home earlier ou go to a sunny outdoor coffee; use headphones (even without music on) to make a unavailable statement, close your office door (ifyou have one). Not everything needs a computer; consider if it's not valuable to close your laptop e focus on a piece of paper.
N.º 2 – "Trick yourself with a microaction"
Some task just seem stuck... for some apparently kind of misterious reason they are postponed and keep bugging and buggin... Until, because it really is supposed to be done, by the last minute, there goes some extra effort and there it gets unstuck. For a lot of people (and I know a few!) this is a paradigmatic case of Christmas presents.
Without going into much detail about these so called blockages (you can always get more info from the book) I'll leave you with one of the most simple and effective tricks I know and on wich I have great feedback. Sometimes the best way to get through is to trick ourselves, just a little bit!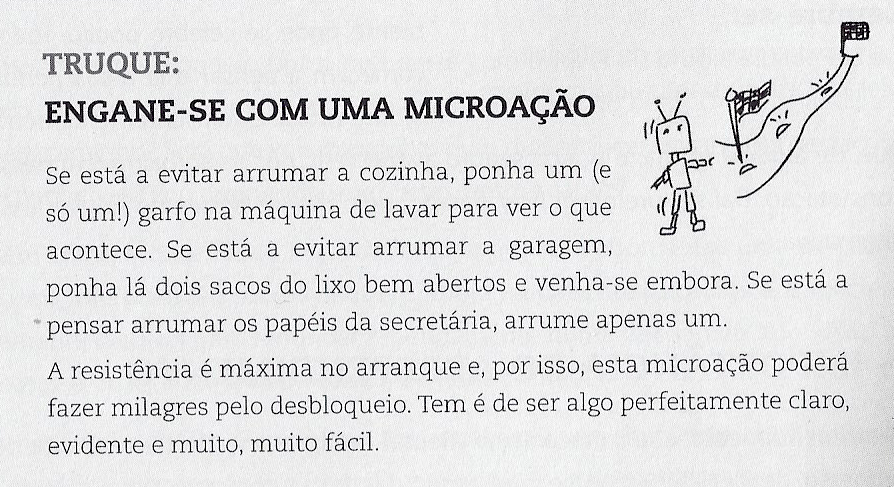 Legend: Trick yourself with a microaction
If your're avoiding cleaning up the kitchen, put one (and just one!) fork in the washing machine. If you're runninf from organizing your garage, go there and put two garbage bags wide open and leave. If you're thinking of clearing up your desk papers, clear just one.
Resistance is biggest at the jumpstart and, therefore, this microaction may work some miracles unblocking wise. Though it must something quite clear, self evident and very, very easy.
N.º 3 – "Write down your job mission"
For many of us and surely most companies this a time for doing the math, adjust some deviations, measure results, ultimatly assess if the path set up a year before has been followed, if it was close enough or not even close.
Alignement is perhaps one of the most leaveraging points that I see most neglected, individually and team wise, and also on an organizational level.
Defining and writing down your job mission allows for a not so common and therefore extremely rich reflection. If you allow me the suggestion, and of course, if it seems like some fun to you, try this trick for your different "jobs": the one at work, the one at home as part of a couple, as a parent, as a son/daughter, friend...
And have fun with the magic that happens when you allow your mind some space for reflection.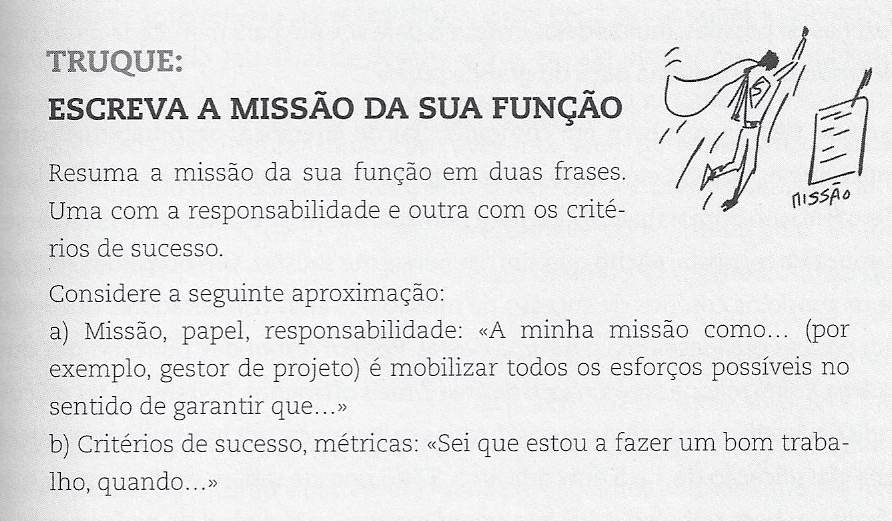 Legend: Write down your job mission
Sum up your job mission in two sentences. One with your responsibilities and other with your success criteria. Consider the following approach:
a) Mission, role, responsibility: "My mission as a... (for instance, project manager) is to gather all the resources available thus ensuring..."
b)Success criteria, metrics: "I know I'm doing a good job when..."
I must confess it was not an easy choice. Lost of other tricks remain waiting, patiently, teicks that help implemment changes in areas like your System and Top Performance, all equally packed with life changing potential, if you're willing to give it a try. And if for some reason it occurs to you "Still haven't got the time" (translation for "Ainda Não Tive Tempo"), here you have an excellent opportunity to realize where and how to find it (the time of course!). At least, Now you know where to start! Merry Christmas and Happy New Year!
Liliana Sanches